I made a New Years' resolution to myself to learn Python and MySQL. Some of you may be asking yourself why someone so interested in web marketing would learn very specific development skills instead of spending time boosting other more core competencies.  I think it's important to separate learning them from becoming an expert. I don't intend to become a full- fledged Python developer or data base administrator; however I do think learning these two languages will help boost my core competencies in ways that provide value and give me, and my clients, a competitive advantage.
Where is all this coming from?
A few months ago I read an article about why every marketer should be technical and it really struck a chord with me. As someone who has worked both for, and with, marketers who are anything but technical, I put a high value on technical marketing. After all, the last thing the world needs is more branded pens. This goes beyond that though, and straight to the core of what inbound marketing is becoming. It is evolving, and becoming more holistic AND technical at the same time. On-site optimization is a very technical operation on large eCommerce sites, just as focusing on conversions and more bottom funnel metrics is becoming critical instead of putting all efforts in top of funnel metrics like rankings. That means that the skill sets of inbound marketers need to evolve as well. Some of us already have some technical skills (I have intermediate HTML and CSS skills which have suited me just fine). They allow me to work on both internal, when I was in house, as well as client websites to fix technical SEO issues, do on page optimization and a/b test without tasking developer resources. This makes the process more efficient and allows me to deliver more value to companies and clients I work for. Not only that, but it allows better implementation of agile marketing and the lean process. When you can build, measure, and learn without any internal impediments or inertia it means you can iterate and build on your efforts based on live tests even faster.
But You Are Talking About Development Skills
Yup, I certainly am. I understand that front end development has been incorporated into inbound marketing, and I think back end development is next. If you think programing doesn't have anything to do with inbound marketing you should look at companies like SEOmoz and Hubspot. In fact, most well known agencies have their own proprietary software that they use in order to make their work effort more scalable and efficient. For example, my current employer uses their own proprietary software in order to make local SEO a more efficient and scalable process. It will also give you a better understanding of how development teams work and allows improved communication for creating better assets for your company and/or your clients. Having basic competency in Python, or a similar programing language, goes well beyond using development skills to create software, you can use them in order to automate tasks that you carry out on a daily business. For instance, there is this really cool Python based technique you can use to automate website scraping.
But Wait, There's More
Data analysis is becoming more and more important for technical marketers. Some of us can do basic data analysis using tools like Excel. If you can't, check out this awesome Excel tutorial by Mike Pantoliano of Distilled. Data is sexy, it allows marketers to make decisions based on actual feedback and information rather than with their gut. Using Excel to arrive at the decisions is good, but not good enough for me. Thus the reason I started learning Python. Wanting to take my data analysis chops to the next level I started investigating a programing language that would allow me to do the robust data analysis that someone like only Dr. Pete can dream of. After playing around with R for a little bit, someone recommended Python for Data Analysis. After looking at it, I was a little dismayed by how rudimentary my programming skills were. Not doing any programming since AP C++ in high school will do that to you.
Python has Great Resources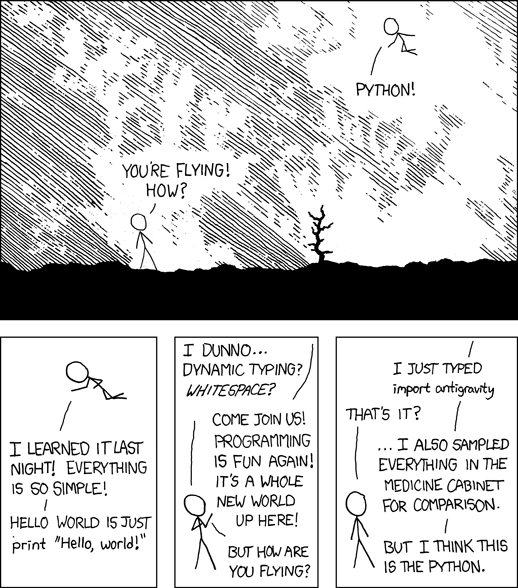 So this brings us to the present. I've been spending a bunch of time learning Python lately. There are some great resources out there. My starting point was Udacity. The reason I started there is because the CS101 class uses Python to teach you fundamental computer science concepts that people with a liberal arts degree, like myself, are lacking. Not only that but they teach you how to build a web crawler and search engine, so it is really on point for SEOs. If you can't think of several uses for having your own customizable web crawler, you are probably in the wrong line of work. Besides Udacity, Code Academy offers robust Python tutorials if you like your education with a side of gamification. And then there is New Boston which offers another set of fantastic resources for a Python beginner. On top of that there are great places to get tons of feedback like Stack Overflow, r/python or Meetup.com if you can handle interacting with people IRL.
Some people may say learn Javascript , Ruby, PHP or .net (I'm looking at you, Dave) but as lots of other people have told me, and as I figured out myself, if you learn one scripting language you will understand the core concepts of other scripting language (loops, functions, variable assignment, recursive programming, managed code bases, version control etc.) You may not be a Javascript or Ruby ninja, but you will understand how to interface with people who have those skills and be able to more easily add value through your technical marketing skills to projects they are working on.
Next on my list is SQL. After all, you gotta have somewhere to store all that valuable data you gather